Custom Cakes
Our custom cakes are decorated with you and your special event at top of mind.  We take great care in the consultation and creation process, so you know your dessert will be as distinct as it is delicious.  Here are just a few events that we often provide custom cakes for:
•  Birthdays
•  Weddings
•  Baby Showers
•  Holidays
•  Quinceanera
•  Baptisms
•  Corporate Events
Ordering Requirements:
In order to reserve a cake on our calendar, we must receive a minimum deposit of half of the total amount due.
We suggest placing custom orders 2-3 weeks in advance.
We take reservations for wedding cakes up to 12 months in advance.
Also, if you correspond with us about a cake, but wait until a later date to pay the deposit, that date may no longer be available.
For more of our custom cakes, please visit our Pinterest page!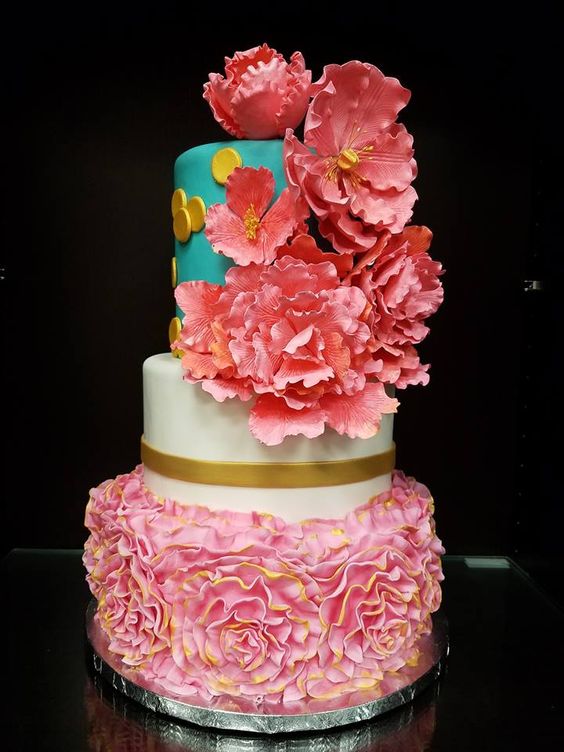 Each cake and tier includes your choice of cake and filling flavors.

CAKE FLAVORS




•  Chocolate
•  Vanilla
•  Marble
•  Red Velvet
•  Carrot
•  Strawberry
•  Almond
•  Lemon
•  Coconut Cream
•  Citrus Orange

FILLINGS

•  Strawberry
•  Raspberry
•  Chocolate Bavarian Cream
•  Vanilla Bavarian Cream
•  Chocolate Ganache
•  Lemon
•  Key Lime
•  Coconut Cream
•  Pineapple
•  Caramel

•  Cookies & Cream
•  Amaretto Almond Whipped Cream
•  Cheesecake Whipped Cream
•  Bourbon Whipped Cream
•  Peanut Butter Fudge Icing
•  Cream Cheese Icing
•  Banana Whipped Cream
•  Citrus Orange Whipped Cream
•  Pink Lemonade
•  Espresso Whipped Cream
Custom cake pricing is based on the size and design of the cake.  Please contact us for specific pricing on one of our cake designs, or schedule a consultation to create a custom design for your event.

6″   Round –   (servings 6 – 8)
8″   Round –   (servings 12-15)
9″   Round –   (servings 15-20)
10″ Round –   (servings 25-30)
12″ Round –   (servings 30-40)

1/4 Sheet Cake – (servings 25-30)
1/2 Sheet Cake – (servings 40-50)
Full Sheet Cake – (servings 80-90)

Contact us at 863.318.1400 or info@ggcupcake.com